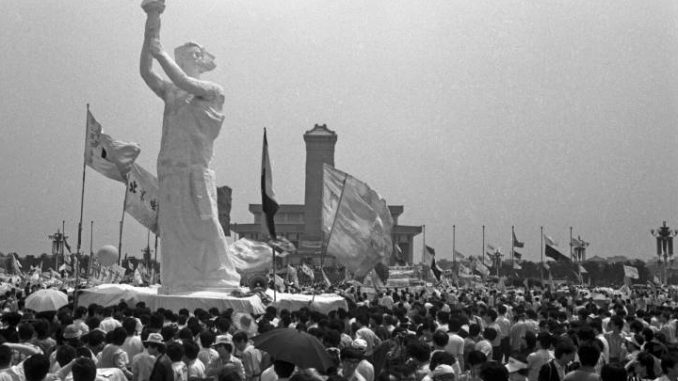 I
After the event of June 4th 1989, China reversed from the processing of a historical transition. The Chinese lost a great opportunity to transform their political system. The CCP carried out a massive check-up and punishment to those democracy seekers inside and outside the Party. Some of them were arrested and sentenced, and others escaped from China to abroad. These situations brought forth the foundation of the Federation for a Democratic China (FDC) overseas.
On 22nd September 1989, a group of Chinese including intellectuals, scholars, business men and student leaders gathered in Paris and established the FDC. Among the founders were Yan Jiaqi and Chen Yizi (staff and brain trust of Zhao Ziyang, the former General Secretary of CCP); Liu Binyan, Su Shaozhi and Su Xiaokang (well-known writers and scholars); Wan Runnan (founder & Chairman of the Chinese Stone Corporation); Wuer Kaixi and Cai Chongguo (student leaders on Tiananmen Square). Soon FDC found supporters with local branches spread throughout the world, such as in USA, Canada, France, Germany, United Kingdom, Netherlands, Belgium, Spain, Denmark, Sweden, Norway, Greece, Australia, New Zealand, Thailand, Japan and Russia. FDC developed gradually into an international political organization with its dedication to promote democratization in China.
The Federation for a Democratic China in Germany was founded in Cologne in October 1989 and registered in Bonn, the capital city of former Federal Republic of Germany, with the German name "Föderation für ein demokratisches China in Deutschland (FDC-BRD)". Since its foundation four persons have chaired the organization and they are: Liao Tienchi, Xiu Haitao(Qi Mo), Fei Liangyong and Pan Yongzhong. FDC-Germany had more than 300 members at the very beginning, who were mostly from mainland China. Among them there were many students and scholars. Some of the members were from Taiwan and Southeast Asia. Later a group of refugees from different social circles of mainland China joined in. During its peak FDC-Germany had more than one thousand members and 7 registered divisions: FDC Mid-Germany, FDC South-Germany, FDC Southwest Germany, FDC North Germany, FDC Berlin, FDC East Germany and FDC Saarland. However, with the time many members withdrew from the organization because of lack of endure, aversion to internal struggles and more because of the economic development of China, which provides more business chances. Moreover, the CCP has tightened its control over overseas Chinese. Those who participate in democratic movements take the risk of being deprived of the rights to go back to China to work, to do businesses, to visit their relatives and even to go for funerals. At present, FDC-Germany has about 20 active members.
The political guiding principles of FDC are: to guarantee basic human rights, to maintain social justice, to develop multiple economic systems, to end one-party ruling and to rebuild a democratic China.
The working principles of FDC are: peace, rationality and non-violence.
The past and present Chair of FDC-Germany are: Liao Tienchi, Xiu Haitao (Qi Mo), Fei Liangyong and Pan Yongzhong.
Liao Tienchi was born in mainland China and grew up in Taiwan. She graduated from the Foreign Language Department of National Taiwan University. She is a writer and translator and has published many works. She was once the President of the Independent Chinese PEN Centre (ICPC) and is presently the board member of the Academy of the Arts of the World in Cologne.
Xiu Haitao (Qi Mo) is a historian. He worked once as a teacher at the Party School of the Central Committee of the Communist Party of China. He is presently the chief-editor of the Chinese Business Newspaper.
Fei Liangyong is a nuclear engineer and served as the Chair of FDC headquarters for 9 years.
Since 2007 Pan Yongzhong holds the Chair. He is a management academician and writer. He serves as the Secretary-General of FDC Headquarters since 2003.
Contact:
Pan Yongzhong:
Rheinweg 160, 41812 Erkelenz, Germany
Tel.: 49/2431-94 66 37, Fax: 49/2431-94 66 38
Mobile: 49/173-256 0548, E-mail: aimipan@t-online.de
Fei Liangyong:
Jordanstr. 10,90513 Zirndorf,Germany
Tel.: 49/911-22 38 20, Fax: 49-911-22 38 28
Mobile: 49/179-202 8873, E-mail: fei@fdc64.de
2015.09.22